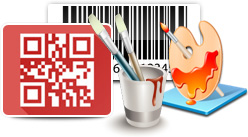 Linear and 2D Barcode Software - Corporate Edition
Linear and 2D barcode Software - Corporate Edition designs barcode stickers and coupons for different business organization and helps to track product details to improve company's productivities. DRPU Barcode Label Maker – Corporate Edition provides complete solution to generate list of barcodes and print designed barcode labels using advanced printing settings.
Advanced batch processing option allows you to design multiple barcode images and saves designed barcodes in various image file format such as JPEG, TIFF, Bitmap, PNG, WMF, EMF, EXIF and GIF.